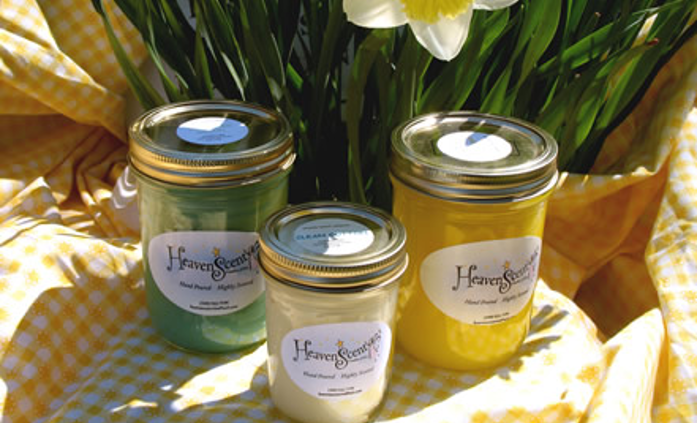 These are the different scents we make at Heaven Scent Candles. We will update this with the new scents we add along with any scents that will be phased out.
Fruit/Citrus/Tropical:
Buttnaked – A fruity bouquet with strawberry, banana, peach and melon , surprising tropical blend
Cherry Almond – Cherries, cherries, cherries
Clean Undies – A fresh clean scent with tropical fruits and sweet berries
Coconut Lemongrass – Creamy coconut blended with fresh lemongrass
Huckleberry – Perfect blend of tart & sweet all in one berry
Lemon Kiss – Just like a lemon meringue pie. Sweet & tart
Lick Me All Over – Exotic blend of raspberry, cantaloupe, watermelon with a twist of jasmine and violet
Live,Laugh,Love – A wonderful blend of sun-ripened black rasperries and creamy vanilla. Smells good enough to eat!
Macintosh Apple – Just like a fresh peeled apple.
Mango Papaya – An incredible blend of these tropical fruits. This one will knock your socks off!
Monkey Farts – A very fruity combinaton that smells just like a Pina Colada you won't smell another like this!
Peach – A fresh ripe peach, you'll be looking for the pit!!
Wedgie – A fruity combination of buttnaked and clean undies
Designer:
Amber Romance – A slight floral hints of jasmine and violet and an overall hint of Woody effect. Victoria Secret type.
Fifty Shades- Just as you imagine!
Lovespell – Light fruit, citrus and florals. Refreshing & energizing. Just like Victoria Secret
Midsummer Night – A masculine fragrance.
Very Sexy – Just like the Victoria's Secret type cologne
Florals:
Gardenia – Just like the flower.
Jasmine – All the aroma of this beautiful white flower
Lavender – A fresh lavendar field. Very relaxing
Rose Bouquet – Absolutely like a bouquet of fresh roses
Sweet Pea – A delightful fragrance of sweet pea flowers, violets and light sun-ripened berries.
White Lilac – Smells like true lilacs in full bloom. It doesn't get any closer than this. Wonderful. Best seller
Kitchen & Food:
Cappuccino Hazelnut – Aroma of fresh brewed espresso capped with steamed milk and hints of roasted hazelnut
Chocolate Fudge Brownie – Freshly baked brownies right out of the oven
Cinnamon Apple – Cinnamon with hints of apple.
Clove – A freshly crushed clove bud
Crème Brulee – A rich dessert of cream, caramelized sugar, egg yolk with a touch of vanilla. Yummy!
Fresh Brewed Coffee – Just like coffee brewing
Grandma's Kitchen – A delicious warm scent with touches of clove, cinnamon & vanilla. Best seller
Grandma's Swingin Eggnog – This is eggnog all the way.
Home Sweet Home – A wonder blend of Cinnamon, clove and apple
Licorice – Black licorice all the way
Mexican Coffee – Fresh brewed coffee and cinnamon
Naughty Thoughts – A sweet, vanilla fragrance blended with spicy nutmeg and just a touch of clove bud. Sweet, yet a little spicy.
Sugar Cookie – A sweet, buttery, vanilla sugar cookie, Mmm.
Vanilla Pumpkin – Pumpkin spice with a vanilla bouquet of buttery nut nuances. Fabulous. Best seller
Vanilla Velvet – Smells just like Fresh Vanilla
Holiday:
Christmas Memories – A blend of cinnamon, clove & vanilla
Harvest – A spicy blend of cinnamon, nutmeg, clove, pumpkin and other spices . Wonderful. Yankee type
Holiday Cheer – A fruity spicy bouquet with cinnamon, clove, nutmeg and juniper
Mistletoe Kiss – A mixture of fruit (Raspberries, lemons and more) with pine to make a great holiday scent
Mulberry – Blend of woods spices, fruits, and flowers made to enhance the christmas spirit
Peppermint Kiss – Just like a peppermint candy. Very refreshing
Pumpkin Spice – A warm blend of molasses, ginger, cinnamon, allspice, nutmeg, ground cloves and pumpkin
Spiced Cranberry – Fresh, tart cranberry with . a hint of spice.
Sugar Plum Berries: – Sugar plums, holiday berries, and coated with sugar. This fragrance captures the beauty of the holidays!
Earth and Wood/Incense:
Asian Sandalwood – An outstanding scent. Sweet, woody and peppery
Dirty Hippie – A blend of patchouli, nag champa and dragons blood.
Dragon's Blood – Rich resin from the Dracaena Draco tree in the East Indies, warm amber and patchouli
Exotic Musk – Soft & Sentual
Cannabis Flower- Marijuana scent
Nag Champa – Nag Champa is an Indian aroma commonly found in the form of incense, sandalwood, champa flowers, violet and clove. A lovely oriental aroma that evokes sensuality and warmth.
Plumbers Crack – Undertones of cedarwood and patchouli with a background of moss. Masculine scent
Over the Hill – Pepper, Rosewood, Sandalwood, Vetiver, Tonka Bean, Amber
Patchouli – The unique aroma of Patchouli Leaves.
Pine – Harvest of Northern Pines
Sensual Amber-Vanilla, musk and sandalwood infused with the essential oils of jasmine, lavender and orange.  Wonderful
Sugared Spruce – Just like a evergreen tree with a touch of sweetness. Awesome!
Clean & Fresh:
Going Commando – A wonderful combination of all 3 greens from mother natures garden combined. Very clean and refreshing
Bay Breeze – Refreshing, clean smell of salty ocean air coming onto the coast.
Beneath the Stars – Grape, Peach, Citrus, Plum, Rose and Musk
Clean Cotton – Laundry fresh off of the line
Cool Citrus Basil – Cool citrus and fresh basil leaves. Refreshing and Energizing!
Spring Rain – Fresh rain showers on a spring day with flowers and trees blooming. A relaxing spa type fragrance
White Tea & Ginger – A wonderfully pleasant blend of white tea mingled with fresh ginger.
Spice:
Mulled Cider – A spicey bouquet of apple, clove, orange and cinnamon. Wonderful
Angel Wings – Citrus, vanilla, clove, cinnamon, best seller
Orange Clove – Blend of Orange, Ginger, Cinnamon & Clove. Awesome
Welcome Home – Spiced apple cider, sweet graham crackers. This is what every home should smell like.
Check back often for more new heavenly scents!