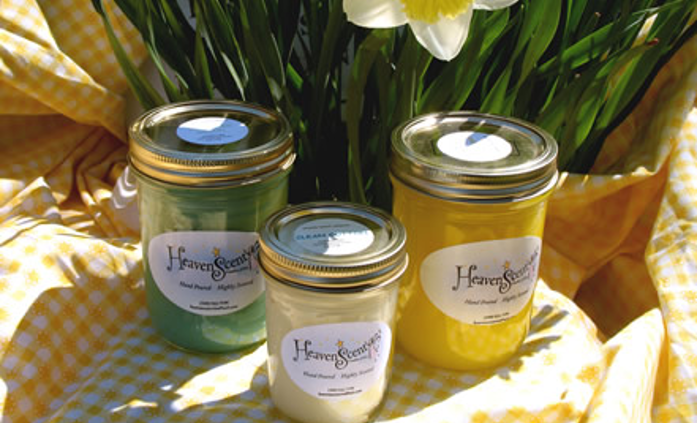 These are the different fragrances we carry at Heaven Scent Candles. We will update this with the new scents we add along with any scents that will be phased out.
*New Spring Scents
Fruit/Citrus/Tropical:
Bergamot – Crisp, clean and juicy.  The citrus jewel of the mediterranean.
Buttnaked – A fruity bouquet with strawberry, banana, peach and melon , surprising tropical blend
Cherry Almond – Cherries, cherries, cherries
Clean Undies – A fresh clean scent with tropical fruits and sweet berries
Coconut Lemongrass – Creamy coconut blended with fresh lemongrass
*Energize – Grapefruit lemongrass, orange, bergamot and mandarin.
Huckleberry – Perfect blend of tart & sweet all in one berry
*Juicee – Raspberries, stawberries, mandarin, florals, vanilla and amber.
Lemon Kiss – Just like a lemon meringue pie. Sweet & tart
Lick Me All Over – Exotic blend of raspberry, cantaloupe, watermelon with a twist of jasmine and violet
Live,Laugh,Love – A wonderful blend of sun-ripened black rasperries and creamy vanilla.                                          Washington Apple – Just like a fresh peeled apple.
Mango Papaya – An incredible blend of these tropical fruits. This one will knock your socks off!
Monkey Farts – A very fruity combinaton that smells just like a Pina Colada you won't smell another like this!
Peach – A fresh ripe peach, you'll be looking for the pit!!
*Vanilla Pineapple Margarita Amazing!
Wedgie – A fruity combination of buttnaked and clean undies
Designer:
*Burberry British – modern blend of classic cologne citruses amber, sandalwood and white musks.
Fifty Shades- Just as you imagine!
Lovespell – Light fruit, citrus and florals. Refreshing & energizing. Just like Victoria Secret
*Lush – Citrusy lemongrass, lavender, woods, clove and musk layers Avobath type
Very Sexy – Just like the Victoria's Secret type cologne
Florals:
Gardenia – Just like the flower.
Jasmine – All the aroma of this beautiful white flower
Lavender – A fresh lavendar field. Very relaxing
Rose Bouquet – Absolutely like a bouquet of fresh roses
White Lilac – Smells like true lilacs in full bloom. It doesn't get any closer than this. Wonderful. Best seller
Kitchen & Food:
Chocolate Fudge Brownie – Freshly baked brownies right out of the oven
Cinnamon Apple – Cinnamon with hints of apple.
Clove – A freshly crushed clove bud
Crème Brulee – A rich dessert of cream, caramelized sugar, egg yolk with a touch of vanilla. Yummy!
Fresh Brewed Coffee – Just like coffee brewing
Grandma's Kitchen – A delicious warm scent with touches of clove, cinnamon & vanilla. Best seller
Home Sweet Home – A wonder blend of Cinnamon, clove and apple
Licorice – Black licorice all the way
Mexican Coffee – Fresh brewed coffee and cinnamon
Naughty Thoughts – A sweet, vanilla fragrance blended with spicy nutmeg and just a touch of clove bud. Sweet, yet a little spicy.
Sugar Cookie – A sweet, buttery, vanilla sugar cookie, Mmm.
Vanilla Pumpkin – Pumpkin spice with a vanilla bouquet of buttery nut nuances. Fabulous. Best seller
Vanilla Velvet – Smells just like Fresh Vanilla
Holiday:
Christmas Memories – A blend of cinnamon, clove & vanilla
Clove – A freshly crushed clove bud                                      Grandmas swinging eggnog- This eggnog is all the way. Harvest  – A spicy blend of cinnamon, nutmeg, clove, pumpkin and other spices . Wonderful. Yankee type
Mistletoe Kiss – A mixture of fruit (Raspberries, lemons and more) with pine to make a great holiday scent
Mulberry – Blend of woods spices, fruits, and flowers made to enhance the christmas spirit
Peppermint Kiss – Just like a peppermint candy. Very refreshing
Pumpkin Spice – A warm blend of molasses, ginger, cinnamon, allspice, nutmeg, ground cloves and pumpkin
Spiced Cranberry – Fresh, tart cranberry with . a hint of spice.
Earth and Wood/Incense:
Asian Sandalwood – An outstanding scent. Sweet, woody and peppery
Dirty Hippie – A blend of patchouli, nag champa and dragons blood.
Dragon's Blood – Rich resin from the Dracaena Draco tree in the East Indies, warm amber and patchouli
Exotic Musk – Soft & Sentual
Reefer Madness – Marijuana scent
Nag Champa – Nag Champa is an Indian aroma commonly found in the form of incense, sandalwood, champa flowers, violet and clove. A lovely oriental aroma that evokes sensuality and warmth.
Plumbers Crack – Undertones of cedarwood and patchouli with a background of moss. Masculine scent
Over the Hill – Pepper, Rosewood, Sandalwood, Vetiver, Tonka Bean, Amber
Patchouli – The unique aroma of Patchouli Leaves.
Sensual Amber – Vanilla, musk and sandalwood infused with the essential oils of jasmine, lavender and orange.  Wonderful
Sugared Spruce – Just like a evergreen tree with a touch of sweetness. Awesome!
Clean & Fresh:
*Baja Cactus Blossom- Citrusy, fruity, slightly spicy with sweet vanilla and musky.
Going Commando – A wonderful combination of all 3 greens from mother natures garden combined. Very clean and refreshing
Clean Cotton – Laundry fresh off of the line
Cool Citrus Basil – Cool citrus and fresh basil leaves. Refreshing and Energizing!
Spring Rain – Fresh rain showers on a spring day with flowers and trees blooming. A relaxing spa type fragrance
White Tea & Ginger – A wonderfully pleasant blend of white tea mingled with fresh ginger.
Spice:
Mulled Cider – A spicey bouquet of apple, clove, orange and cinnamon. Wonderful
Angel Wings – Citrus, vanilla, clove, cinnamon, best seller
Orange Clove – Blend of Orange, Ginger, Cinnamon & Clove. Awesome
Welcome Home – Spiced apple cider, sweet graham crackers. This is what every home should smell like.
Check back often for more new heavenly scents!